Löwenkönig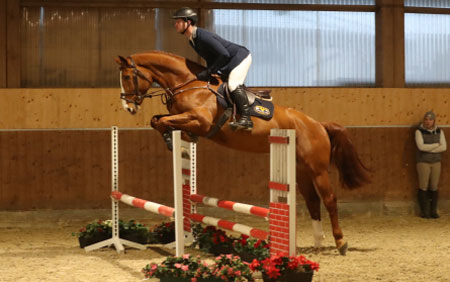 | | |
| --- | --- |
| Rasse | Hannoveraner |
| Geschlecht | gekörter Hengst |
| Geburtsdatum | 20.02.2014 |
| Stockmaß | ca. 168 cm |
| Farbe | Fuchs |
| Lebensnummer | DE 431316792514 |
| Züchter | Zuchthof Dree Böken |
Pedigree
Darco
Lugano van La Roche
Lugano I
Adlerflut
Ocoucha
Codex
Latoucha
King Julia
King Kolibri
Kolibri
Athletica
Victoria
Vulkano FRH
Justin
Weitere Informationen
Löwenkönig – the first Darco son to become licesed stallion of the Hanovarian Breed in Verden.
He is a highly interesting youngster with great pedigree, great performance and great future prospects.
Following his successful stallion performance test, he was stationed at County Stud in Celle for two times. In June 2018 we brought him back to the jumping parcours where he qualified for the Hanovarian Championships.