Breeding and breeding selection
Performance stallions with perfect x-rays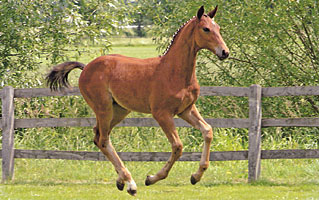 The pedigrees of our horses only feature performance stallions that are chosen in accordance with a particular breeding concept. Special attention is placed on stallions descending from our own breeding program such as Vulkano FRH – Stakkato Gold – King Julio and King Kolibri etc..
For many horse generations, we have only used offspring in our breeding program that feature first-class x-rays. We have x-rays of our broodmares for at least the last five generations. As we are as careful with the selection of the perfect stallion, almost all x-rays of progeny of Zuchthof Dree Böken – Prieros are without negative findings. Provided the dams produce an offspring with positive x-rays, we will no longer use this stallion for our breeding shed. We could mention some examples, but resign from it.
Dressage line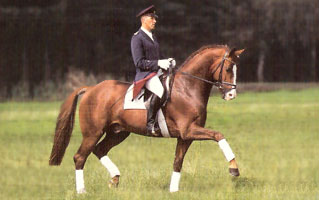 Weltmeyer – Akzent II – Darwin – Almhügel III – Staatslied III form the basis of our dressage line. We bred this line to legendary stallions such as Werther – Donnerhall – Olympic Ferro – Lauries Crusador xx – Gribaldi – Heraldik xx – Damon Hill - Wynton - Negro - Don Schufro - Zack and some others more, always true to the motto: what do Grand Prix-riders require.
Show jumping line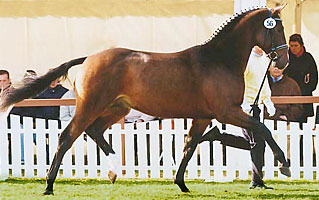 Our show jumping line is based on a Calypso II-dam out of the famous performance line of state premium mare Alsterröschen (Franz Lüth, Brandleben), tracing back via Wienerwald with a linebreeding component to Agram out of the Arabian foundation line.
We have "modernized" this line – without compromising on performance – with Libero H, the six-times World Cup winner (1994) and the tough thoroughbred sire Julio Mariner xx. Today, our pedigrees feature stallions such as Voltaire – Grannus – Kolibri – Goldfever I – King Julio – Stakkato – Darco – Stakkato Gold – Vulkano FRH – Cardento – King Kolibri – Nabab de Rev. and other performance sires.
Selection of stallions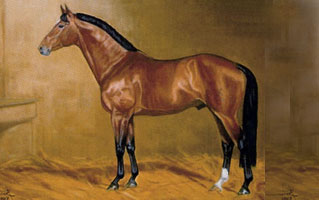 We act differently compared to other breeding farms when it comes to the selection of stallions, and everybody dealing in more detail with this subject will recognize the difference. We place great emphasis on licensed stallions such as Vulkano FRH – King Kolibri – Stakkato Gold – King Julio etc. who all descend from our own breeding program. As it is our goal to preserve and to further develop the high performance potential of our foundation line, we foster the hereditary background as a hen cares for her chicks.
International performance breed
We run an international performance breeding business, closely adapted to sport at the highest level and assume that the breeding associations will catch up with this development.